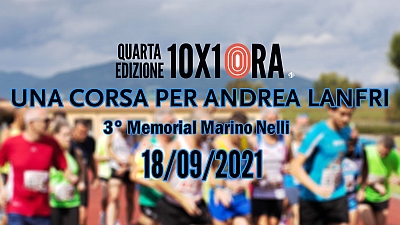 10X1 ora - Una corsa per Andrea Lanfri. 10X1 hour - A race for Andrea Lanfri. 4th edition of this non-competitive race, on a track. A relay race with 10 athletes per team in which each athlete runs for 1 hour for a total of 10 hours.
A charity event to raise funds for the Paralympic athlete of the Italian national team Andrea Lanfri. The 3rd memorial to remember Marino Nelli takes place on Saturday 18 September at 9:30 am at the Campo Scuola Moreno Martini (Campo Coni).
The event is included in the Settembre lucchese 2021 program.
Start / End Time
9:30 am / 8:00 pm
Place
Campo Scuola Moreno Martini (Campo Coni). Via delle Tagliate - Lucca