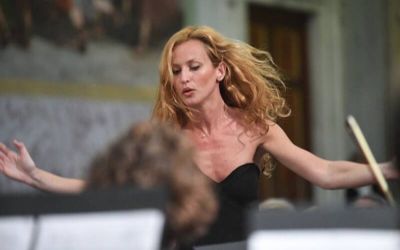 A great event for an important anniversary.
A special night with two successful protagonists from Lucca together with one of the most prestigious Italian orchestras.
On Wednesday 17 November at 9.00 pm, in the San Francesco church, Beatrice Venezi directs the Orchestra of Tuscany and the trumpeter Luca Betti in memory of the lawyer Giovanni Cattani.
Beatrice Venezi, a young and appreciated orchestra director, is back in her hometown after a period of commitments and prestigious collaborations with orchestras from all over the world, and her first album and the publication of two books.
In Lucca she directs the ORT - Orchestra of Tuscany, which collaborated with important artists like Salvatore Accardo, Yuri Bashmet, Frans Brüggen, Myung-Whun Chung, Daniel Harding, Yo-Yo Ma and Uto Ughi. On the trumpet Luca Betti, First Trumpet at the Orchestra of Tuscany.
On the program the overture of Beethoven's Coriolano, the Concerto for trumpet and orchestra that Haydn composed in 1796 for the court trumpeter Anton Weidinger, the creator of the key trumpet, a new instrument that interested the public and captured the imagination of many composers and Mozart. First the famous opening of Don Giovanni, and then a solemn closing with Symphony no.39, not surprisingly called "Mozart's Eroica".

Online reservations on EventBrite
Place
Auditorium san Francesco, piazza san Francesco, Lucca