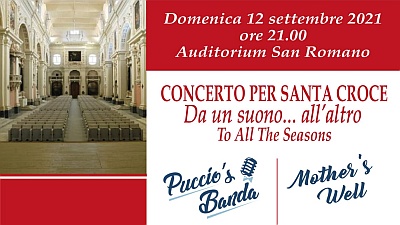 Music's in the air to celebrate the solemnity of the Volto Santo Cross.
On Sunday 12 September at 9.00 pm in the San Romano Auditorium, 4th edition of the concert "Da un suono... all'altro" by the Laboratorio Brunier association.
The rock group Mother's Well from Lucca performs unreleased songs and those of international rocksingers. Together, Puccio's Banda plays a vast repertoire, from the great classics of Italian singer-songwriters to jazz / swing and pop rock of the '70s.
Free admission subject to availability. For information please call +39 327 1662038 / +39 347 6254609 or write to info@laboratoriobrunier.it.
The event is included in the Settembre Lucchese 2021 program.
Place
Auditorium di San Romano. Piazza San Romano - Lucca