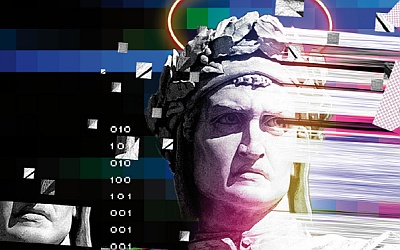 Divina! Avatar di Dante opens in Lucca. The itinerant project of the Regional Council of Tuscany celebrates the 700th anniversary of Dante Alighieri's death making a stop at the former Casa del Boia - Executioner's house from 25 to 30 September.
The installation analyzes the faces in a unique way, and associates them with a triplet of verses taken from the Divine Comedy that users can take with them, recreating a new structure of the Divine Comedy.
This is how a depth scanning sensor from 2021 and a needle-like teleprinter from 1940 work together with 30 televisions, a printer, a video game and 5 computers in a binary-based linguistic mediation.
During the inauguration, on Saturday 25 September at 12:00 pm, a detailed explanation of the operation and the used technology will be made.
Designed and built by the University of Pisa, the Department of Civil and Industrial Engineering D.I.C.I., Labour Astro with Foll.ia Lab., in collaboration with the digital artist BluPXLs.
Dates
September 25 / 30, 2021
Place
Ex Casa del Boia. Via dei Bacchettoni, 8 - Lucca