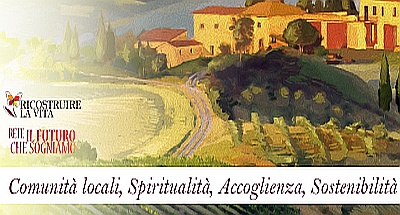 6th edition of the Economia e Spiritualità (Economy and Spirituality) Festival. "The wrong use of wealth is the primary cause of all evil". Dante's point of view also represents a new way of investigating current events and future prospects. A Festival for a fair, supportive, sustainable economy involving the spirit. "Care" is the main theme of this edition which is held in six locations in Tuscany from June to September.
From 29 August to 24 September in Lucca in the San Romano auditorium and in the green area behind the town of Capannori, teachers, writers, economists and songwriters take turns to give their contribution to a global reflection in search for a different way to conceive economy: more human, as a community and supportive.
In the program on Friday 10 September
9:00 pm - Salone dell'Arcivescovado | Conference in Italian language - I terremoti dell'anima: cura e ricostruzione. With Monsignor Domenico Pompili, Bishop of Rieti. Introduction by the archbishop of Lucca Paolo Giulietti.
Reservation requested online www.eventbrite.it/ricostruire-la-vita.
For information please call +39 340 8125148 or write to segreteria@ricostruirelavita.it. Here is the complete program.
The event is included in the Settembre lucchese 2021 program.
Dates
August 29 / September 24, 2021
Place
Salone dell'Arcivescovado. Piazzale Mons. Giulio Arrigoni, 2 - Lucca