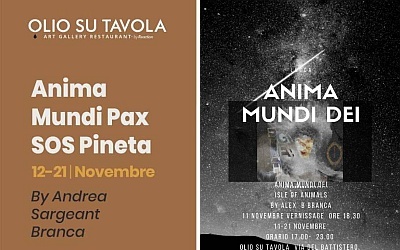 Nature, art, living beings on display from 12 to 21 November at the OlioSuTavola art gallery.
On display the meditative atmospheric works of watercolorist Andrea Sargeant Branca titled Anima Mundi Pax and the dreamlike works by Alexander Branca in the Anima Mundi Dei section. Works that reveal the relationship between humans, the environment and other living beings from different points of view.
Opening on Thursday 11 November at 6:30 pm.
Dates
November 12 / 21, 2021
Start / End Time
tue / fri - 5:00pm / 11:30pm; sat - 10:00am / 11:30 pm; sun - 10:00am / 3:00pm. Closed on mondays
Place
Contemporary art gallery OlioSuTavola. Va del Battistero, 38 - Lucca