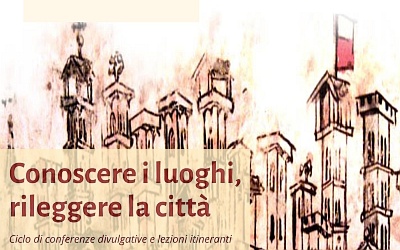 Conoscere i luoghi, rileggere la città. Knowing the places, interpreting the city. Cycle of informative conferences and itinerant lessons, from May to September, to discover the historical-artistic heritage of the city by archaeologists and art historians. The Terzo Millennio association proposes a series of meetings divided into two parts: the conference, for a first overview of each topic and the itinerant lesson, for an in-depth study and direct experience.
In the program this weekend
Friday 18 September
5.30 pm - Auditorium of the Agorà Civic Library | Conference entitled Difendere la città. Storia di Lucca e delle sue cinte murarie. Curated by Giovanni Sodi.
Saturday 19 September
5:00 pm | Traveling lesson by Giovanni Sodi. The meeting point will be communicated at the reservation.
Reservation required by email to didatticaterzomillennio@gmail.com or by calling +39 342 1466451 (mon. 10:00 am / 12:00 pm - 4:30 pm / 6:30 pm and thur. 10:00 am / 12:00 pm). Poster (.jpg).
The event is included in the Settembre lucchese 2021 program.
Dates
May 28 / September 18, 2021
Start / End Time
5:00 pm / 5:30 pm
Place
Biblioteca Civica Agorà. Via delle Trombe, 6 / Centro storico - Lucca
Ticket
Free admission (conference) / € 6,00 (lesson)