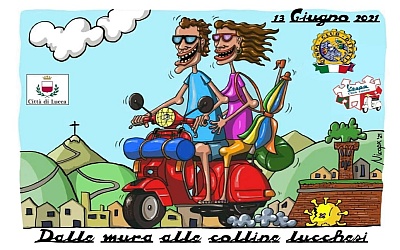 Dalle Mura alle Colline Lucchesi / From the walls to the hills of Lucca. 13th national Vespa meeting organized by the VespaClub of Lucca. The most awaited event of the year for Lucca Vespa riders and friends: a tour of the Lucca walls and hills. The location of the Vespa Village is the former Cavallerizza area. The entrance of the participants is from Porta Sant'Anna / Vittorio Emanuele, following the signs for "Ex Cavallerizza", counter-clockwise around Piazzale Verdi.
In the program on Sunday 13 June
Collection of the "rally package" with registration confirmation.
11.00 am - Ex Cavallerizza | Start: tour of the walls and the hills of Lucca.
1.00 pm - Ex Cavallerizza | Arrival with aperitif and speech.
Registration for the rally reserved only for Vespa Club d'Italia members.
For information: Antonio +39 335 6180226; Giulio +39 338 7367335; Giulia +39 348 5846002.
Start / End Time
11:00 am / 1:00 pm
Place
Ex Cavallerizza. Piazzale Verdi - Lucca