from June 2 to September 30
3 tours in the hills around the Piana di Lucca area, along the Serchio river and ... at the table, taking inspiration from the Divine Comedy and its citations of places and characters.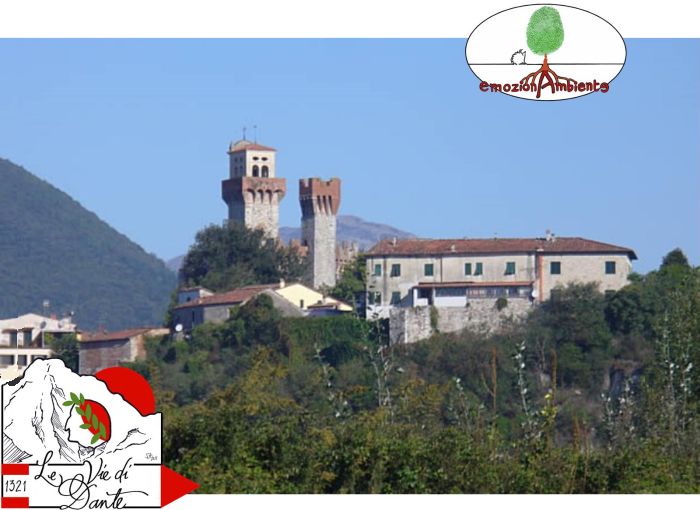 "For the harmful fault of the throat"
Historic dinner set in Campo Romano. After a pleasant excursion through skillfully cultivated olive groves, you will taste delicacies with an ancient flavor evoking an atmosphere of castles, ladies and knights. And who knows that during our succulent historical banquet the poet will not come to visit us ...
Meeting: 5:30 pm
Return: around 10:00 pm
Difficulty: easy excursion suitable for everyone.
Cost: € 45,00 / € 30,00 dinner including
"here you can swim otherwise than in the Serchio"
A territory rich in medieval history: the border between the towns of Pisa and Lucca. The castle of Ripafratta, in the Pisa area, and that of Nozzano, on the other bank of the river, in the Lucca area where you will listen to the famous verses concerning the terrible punishment reserved for barterers.
Meeting: 2:30 pm
Return: around 7:30 pm
Difficulty: easy excursion suitable for all walkers.
Cost: € 15,00 / 6,00 + 5,00 ticket for the castle
"so that the Pisans couldn't see Lucca"
Ring tour from San Giuliano Terme, through olive groves to the ruins of the so-called "Casa del Polacco", the illustrious nineteenth-century scientist Sigismondo de Bosniaski and to  "Passo di Dante", where you will hear the terrible story of Count Ugolino and his children's death in the Torre della Muda.
Meeting: 8:00 am S. Giuliano Terme
Return: around 4:00 pm
Difficulty: excursion that requires a minimum of training.
Cost: € 15,00 / free for children up to 11 years
For information and reservations:
Emozionambiente
www.emozionambiente.it
cell. +39 329 3618235