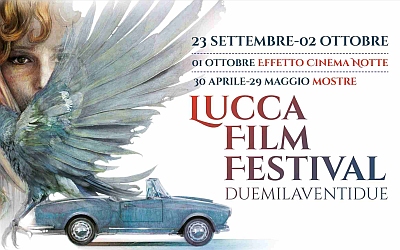 Spring event with the exhibitions of the XVIII edition of Lucca Film Festival, the festival of film culture with a multidisciplinary dimension, with a unique format in the panorama of European festivals. Two exhibitions to investigate and deepen the link and relations between cinema and visual arts.
From 30 April to 8 May the location of the Ragghianti Foundation hosts the exhibition Bill Viola.The Seventies, created in collaboration with Over The Real, curated by Maurizio Marco Tozzi and Alessandro Romanini.
The exhibition presents one of the most important international contemporary artists, focusing on the seventies when he was one of the pioneers of the language of video art. On display historical videos made from 1977 to 1980, together with a selection of photographs by Gianni Melotti taken in those same years, which document the first experiences of the young Bill Viola and other artists, from all over the world, in the Florentine art space art/ tapes/22 to start making use of new magnetic tape technologies.
Opening on Saturday 30 April at 6:00 pm.
Dates
April 30 / May 8, 2022
Start / End Time
10:00 am / 1:00 pm - 3:30 pm / 7:30 pm
Place
Mezzanino della Fondazione Ragghianti. Complesso San Micheletto - Lucca