International museum day in Lucca 2020
The museums of Lucca invite you to join the online events in live-streaming and the video meetings in occasion of the International museum day.
The theme of the 2020 edition is Museums for Equality: diversity and inclusion, which focuses on the social role of cultural Institutes, their potential in being agents of change, carrying out actions to encourage the participation of all people.
The program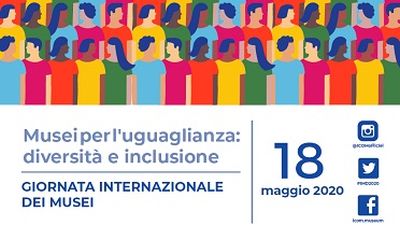 at 12:00 pm the Local Photo Archive of Lucca will organize a live streaming event to present its activities and describe the various collections of photographic material present, which is constantly expanding https://www.instagram.com/photoluxfest/

1:00 pm Torre Guinigi video message / interview Councilor Ragghianti
1:30 pm the Councilor Stefano Ragghianti shows the new guided and carefully structured access system to the public.

at 3:00 pm the Museum areal of the Cathedral in Lucca will propose a social event on "Zoom" to present the museum's next initiatives and answer questions by the public live http://www.icom-italia.org/giornata-internazionale-dei-musei-international-museum-day/

4:00 pm Lu.C.C.A. Lucca Center of Contemporary Art "L'opportunità nell'incertezza. I musei dopo la pandemia" (The opportunity in uncertainty. Museums after the pandemic), a direct streaming (link available). Maurizio Vanni, Professor of Museology and Museum Marketing, will offer an overview of the social and cultural role of museums in the complex contemporary world.

6:00 pm National Museums of Lucca together with IMT Alti Studi Lucca "Tutela, gestione e valorizzazione del patrimonio culturale italiano a partire dal caso del Musei Nazionali di Lucca" (Protection, management and enhancement of the Italian cultural heritage starting from the case of the National Museums of Lucca) Live streaming on the Facebook page https://www.facebook.com/IMT-School-for-Advanced-Studies-Lucca-187139651342738/ and https://www.youtube.com/user/IMTAltiStudiLucca
Videos and virtual tours of Lucca's Museums will also be released on the YT channel "Live Love Lucca"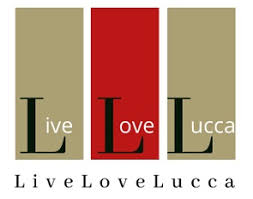 Museums and cultural institutions on the new  YT channel LiveLoveLucca. All day long videos about the cultural heritage of the city.
Botanical Garden - Historical Botanical Museum "C. Bicchi "
Museum complex of the Cathedral of Lucca
Centro Studi Ragghianti - Carlo and Licia Ragghianti Foundation
Puccini Museum Birthplace of Giacomo Puccini
Lucca's Giglio Theater
House of Memory and Peace of Lucca
Domus Romana Casa del Fanciullo sul Delfino
On the virtual bulletin board of Lucca's Museums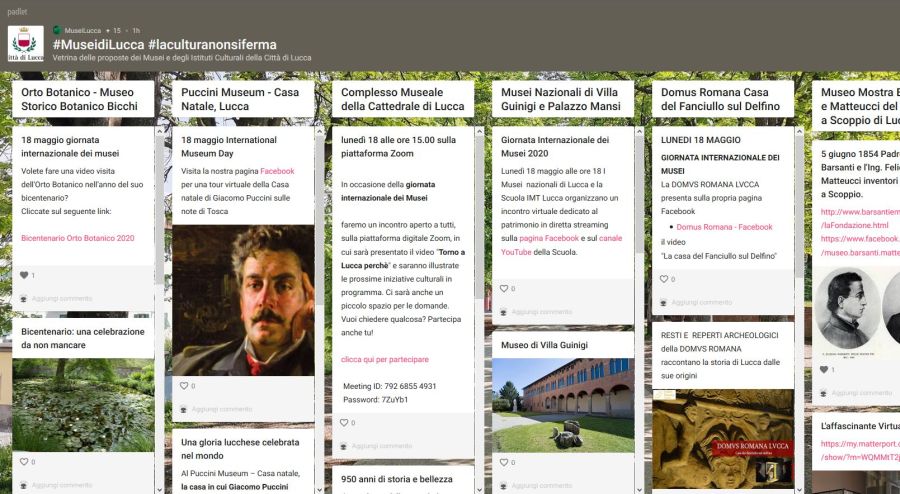 A detailed overview of various activities, new projects, online content and the most relevant appointments for visitors and the community is available on Lucca's museums virtual bulletin board (Padlet.com/museilucca/museilucca).