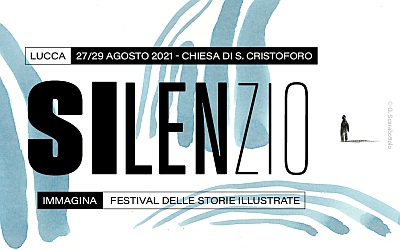 2nd edition of Immagina, the festival of illustrated stories. Smart entertainment festival for young and old people inspired by the love for the illustrated stories by Eva Perna and Arnaldo Filippini. Laboratories, training meetings, workshops, exhibitions in a calendar full of events and places - the real ones in the city and the infinite ones in our imagination - waiting to be discovered.
A one-of-a-kind festival that caters to a big audience to introduce them into the world of illustrated narration living an experience inside history.
The main theme of this edition is silence through the promotion of a bibliography dedicated to 'silent books'. Silent books are able to promote the culture of illustrated fiction, and education to reading through images. These books are very inclusive since they are also accessible to persons with sensory, physical and visual limitations and people unable to understand our language. The only images can be vehicles of important messages in a poetic and easy-to-read way.
The main exhibition site of the festival is the San Cristoforo church where four exhibitions are set up: the exhibition 'Immagina il Silenzio', an immersive space to discover an accurate selection of themed illustrated books; two exhibitions to celebrate two important international editors and their silent book bibliographies: Carthusia (Italy) and Pato Logico (Portugal); an art exhibition by one of the greatest masters of Italian illustration and graphics: Guido Scarabottolo.
The Festival also extends to the Agorà Civic Library, partner of the initiative, where training courses on illustrated books, book presentations and artistic activities for adults are held.
Special guest of the program is Riccardo Falcinelli, Italian design theorist and author of the publishing success "Cromorama" (Einaudi), who presents his latest book "Figure. Come funzionano le immagini dal Rinascimento a Instagram"(Einaudi).
Dates
August 27 / 29, 2021
Start / End Time
10:00 am / 7:00 pm
Place
Ex Chiesa di S. Cristoforo. Via Fillungo / Biblioteca Civica Agorà. Via delle Trombe, 6 - Lucca