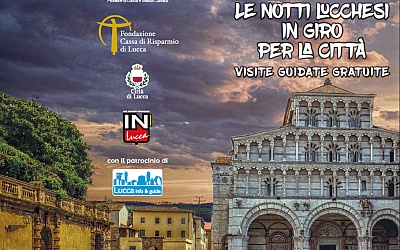 9 events every thursday night in July and August for a total of 18 guided tours, 2 for each event that will allow you to discover Lucca, its beauties and its thousand secrets often unknown also to locals.
This is the concept of "Le notti lucchesi in giro per la città", a promotional tourist event organized by the local retailers association, in cooperation with the City of Lucca, the guides of Lucca Info & Guide and the shopping center Città di Lucca.
In the program on Thursday 5 August
6:00 pm - Sono una monaca, non sono una santa. Once upon a time there was a great amount of monasteries in Lucca. The vocation at the time was certainly not the reason why a girl became a nun and, between a morning praise and an the evening vespers, often a secret love or a scandal were part of their lives. In this guide the scandals behind the scenes of women's monasteries are revealed.
9:00 pm - Un patto con il Diavolo. The devil came to Lucca and left his footprints. Legends and mysterious signs from hell are the focus of this guide. Complete program of guided tours (.pdf).
The meeting points will be conveyed at the moment of reservation.
For info and reservations (mandatory): from 9:30 am to 12:30 pm by calling +39 349 1332450 or 340 7806967 or by sending an e-mail to mary.curto1958@gmail.com
Dates
July 1 / August 26, 2021
Start / End Time
6:00 pm - 9:00 pm
Place
Old town centre - Lucca