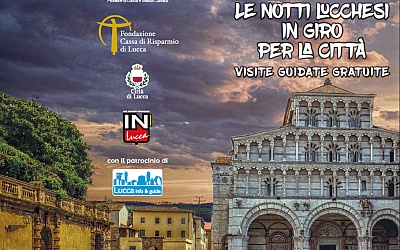 9 events every thursday night in July and August for a total of 18 guided tours, 2 for each event that will allow you to discover Lucca, its beauties and its thousand secrets often unknown also to locals.
This is the concept of "Le notti lucchesi in giro per la città", a promotional tourist event organized by the local retailers association, in cooperation with the City of Lucca, the guides of Lucca Info & Guide and the shopping center Città di Lucca.
In the program on Thursday 19 August
6:00 pm - Passeggiate al tramonto. At the end of the day, put on your hiking boots and come and take some oxygen in the Lucca hills at the most beautiful moment of the day: at sunset. Easy excursions to discover the Lucca area. Duration 3/4 hours.
9:00 pm - Bellezza femminile a cavallo dei secoli. Tour to discover the clothes, fabrics, jewels and perfumes used by the beautiful ladies of Lucca with particular attention to the laws that forbade unbridled luxury and how they passed them by. Fabrics and historical shops of the city of Lucca, a walk that will wind through the streets of Santa Croce, Fillungo, Via Buia, Via San Paolino.
Complete program of guided tours (.pdf).
The meeting points will be conveyed at the moment of reservation.
For info and reservations (mandatory): from 9:30 am to 12:30 pm by calling +39 349 1332450 or 340 7806967 or by sending an e-mail to mary.curto1958@gmail.com
Dates
July 1 / August 26, 2021
Start / End Time
6:00 pm - 9:00 pm