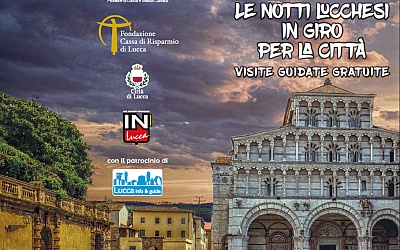 Le notti lucchesi in giro per la città - 9 events every thursday night in July and August for a total of 18 guided tours that will allow you to discover Lucca, its beauties and its thousand secrets.
In the program on Thursday 26 August
6:00 pm - Lucca Running Tour. There is no other place like the Renaissance wall of Lucca for a running tour, and it is certainly worth to be discovered!
9:00 pm - Odori e Sapori nel Medioevo. What did people eat in the Middle Ages? What did the pharmacies sell? Where to find a remedy for toothache? Tour to discover medieval life in Lucca through the crafts, innovations and flavors of the time. Departure from Porta dei Borghi, arrival in Piazza Napoleone.
Complete program of guided tours (.pdf).
The meeting points will be conveyed at the moment of reservation.
For info and reservations (mandatory): from 9:30 am to 12:30 pm by calling +39 349 1332450 or 340 7806967 or by sending an e-mail to mary.curto1958@gmail.com
Dates
July 1 / August 26, 2021
Start / End Time
6:00 pm - 9:00 pm
Place
Old town centre - Lucca