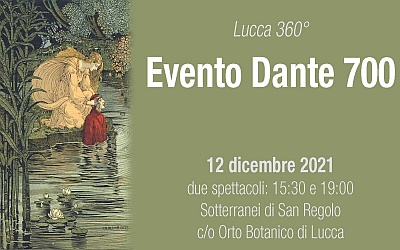 Lucca 360° - Dante 700 event. Le stanze di Dante nel Giardino di Beatrice. On Sunday 12 December at 3:30 pm and 7:00 pm, in the basement of Baluardo San Regolo, an enogastrocultural and multisensory experience organised by the cult.ora association.
An intense journey through a traveling Dante itinerary of food, stories, music and dance: investigating true beauty, love and getting lost in order to find oneself.
A Divine atmosphere thanks to local food and wine, performances and visual arts, creative artisans and interactive exhibitions.
The Divine Comedy is represented by the refined dishes prepared by the chefs and the bartender mixes with recipes specifically designed to recall Hell, Purgatory and Heaven.
Duration of the experience: 2 hours and 45 minutes.
On the program: Tasting in the dark, Drinks (Cocktail / Wine / Beer / Non-alcoholic option) and final Aperitif - light dinner.
For Information and tickets: whatsapp +39 328 5630157 or online at www.eventbrite.com/ticketsevento/evento-dante-700-le-stanze-di-dante-nel-giardino-di-beatrice.
Start / End Time
3:30 pm - 7:00 pm
Place
Botanical garden of Lucca. Via del Giardino Botanico, 14 - Lucca