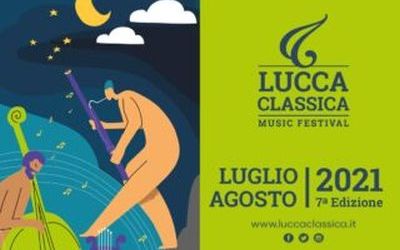 Great music and live concerts in new places with more than 40 events in the 7th edition of the Lucca Classica Music Festival, scheduled in the summer months of July and August.
The traditional anniversary edition is dedicated to Piazzolla, Stravinskij and Saint-Saëns. Insights on Napoleon and Dante Alighieri. A special memorial event dedicated to Ezio Bosso.
Scheduled on Saturday 7 August
12:00 pm / 1:00 pm - Puccini Museum | Guided tour in Italian language organized by the Giacomo Puccini foundation to the Giacomo Puccini birthhouse museum. Duration approx. 1 h. Max 10 persons. For Info and reservations: www.puccinimuseum.org/it/prenota-biglietti/shop - tel. +39 0583 584028 – e-mail: info@puccinimuseum.it.
(Tickets: € 7,00 / € 9,00)
9:15 pm / 10:45 pm - Auditorium Istituto Musicale Boccherini | Bambini & Famiglie. Il carnevale degli animali e altri animali fantastici. A fascinating journey in the fantastic world of animals through the notes of the famous Saint Saëns Animal Carnival, a story written and told by Michela Lombardi and some surprising and unforgettable songs. Elia and Betsabea Faccini, piano duo; Michela Lombardi, dramaturgy and voice. Music by Camille Saint Saëns, Franco Battiato, Antonio Virgilio, Lelio Luttazzi.
(Tickets: € 5,00)
Presales of the main events online on oooh.events. Complete program Lucca Classica Music Festival.
Dates
July 3 / August 31, 2021
Start / End Time
12:00 pm / 1:00 pm - 9:15 pm / 10:45 pm
Place
Puccini Museum. Corte S. Lorenzo, 9 /  Auditorium Istituto Musicale Boccherini. Piazza del Suffragio, 6 - Lucca
Ticket
€ 7,00 / € 9,00 - € 5,00