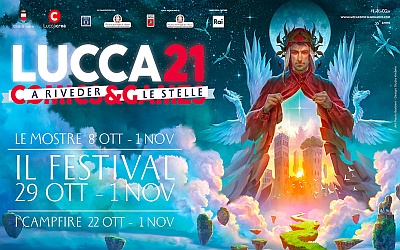 Lucca Comics & Games...a riveder le stelle is back in attendance, but only with indoor events and limited access. The biggest city event will be held over 4 days, from 29 October to 1 November, representing also the most important community event in Europe dedicated to comics, gaming, video games, animation, and fantasy.
After the innovations introduced for Lucca ChanGes 2020, Lucca Comics & Games is back in the city from which it takes its name, with live events, meetings and appointments in presence following the valid health regulations. The new formula allows visitors to enjoy the Festival in total peace and safety. Access limited to approx.
All the official initiatives of the Festival are exclusively open to visitors that previously purchased tickets: the conference rooms, the Junior area and the exhibitions. For fans and onlookers of the Festival and for enthusiasts of the different areas, it is strongly recommended to arrive in Lucca only with tickets bought in advance. Music and competitive cosplay activities will take place only in controlled access and limited number areas, like the 7 exhibitions (October 8 ottobre / November 1).
Lucca Comics & Games 2021 is organized with different districts: the central part of comics will still be Piazza Napoleone with the traditional pavilion, as well as Palazzo Ducale and the usual spaces of the sports hall. The world of games will be located in the Real Collegio and in the Cavallerizza area; the Japanese universe will cover the wide spaces of the Polo Fiere in Lucca; the Music & Cosplay area will be housed in the San Francesco complex.
New for 2021 is the Rock'n Comics area, meetings with authors and musicians in the San Francesco complex.
Also this year a multi-channel program will allow the audience to join the event even remotely: streaming events, Campfires throughout the country, the prestigious media partnership with Rai television, the Off digital and live program.
Visitors without a ticket can still experience a widespread dimension of the Festival, directly from their home regions and cities, through digital events, appointments linked to media partners and the activities promoted in individual Campfires (October 22 / November 1).
Tickets can be purchased from September 21 at 3:00 pm. 
More information and the program is available on the website www.luccacomicsandgames.it and on their social media.
Dates
October 29 / November 1, 2021
Start / End Time
9:00 am / 19:00 pm
Ticket
From € 18,20 to € 162,00. Concessions and abos available.