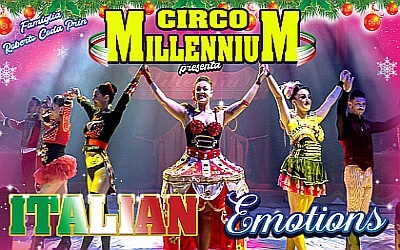 The Millennium circus is set up with a big top in piazzale Don Franco Baroni. From 23 December 2021 to 16 January 2022 the Coda Prin family presents a totally new show called Italian Emotions with the best Italian circus artists.
A show full of art, special effects and music, in a futuristic location equipped with all comforts under the careful direction of the Coda Prin Brothers, belonging to one of the oldest Italian circus dynasties.
In the schedule of the show: Derek Coda Prin at the free scales award-winning performance at the Circus Festival of Latina, Willy Colombaioni, multi-award-winning juggler and holder of many world Guinness records and Yuri Caveagna on rollers and crossbows, the antipodist Anita Niemen, the hula hoops by Sharon Pellegrini, the bands of Rudy Tucci the clown William Biasini, the illusionist duo Tucci and the music performed by the Cuginetti.
On 23 and 24 December special ticket € 7.00.
On December 31, Special night at the circus. Special circus show, cotillion for children, panettone cake and sparkling wine for all families, a toast and group dances in the center of the dance floor with all the artists until the early hours of the new year.
For information and tickets, please visit the website www.millenniumcircus.com or call +39 348 6655915.
Reservations for the December 31st party directly at the circus ticket office on December 28th, 29th and 30th at 10:00 am / 1:00 pm.
Dates
December 23, 2021 / January 6, 2022
Place
Piazzale Don Baroni - Lucca