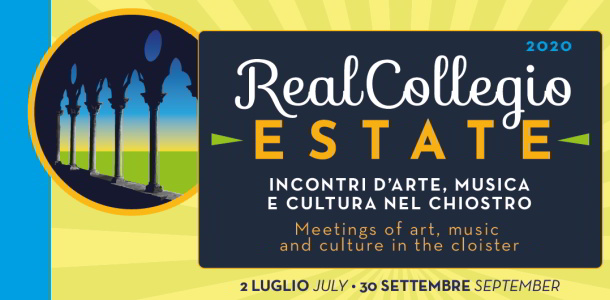 All-round conversations, concerts and art. The journalist Paolo Mandoli presents talk shows on Tuesday evening in the Santa Caterina cloister.
The smallest of the three cloisters of the former Royal College in Gothic style, whose origins can be traced back to the thirteenth century, is preserved almost unchanged and hosts the events of the festival from 2 July and until 26 September, with the cooperation of La Cattiva Compagnia, Virtuoso & Belcanto festival, the Animando association, Lucca Jazz Club, Napoleone ed Elisa: da Parigi alla Toscana, Lucca Senza Barriere.
In the program on Tuesday 1 September
9:00 pm | S. Caterina Cloister. Real Collegio Lucca | Theatre performance by the association Napoleone ed Elisa: da Parigi alla Toscana. The actress Cristina Puccinelli reads documents and correspondence from Princess Elisa Baciocchi Bonaparte.
Musical accompaniment by Anna-Livia Walker, harp. Performance of Nadermann's sonatine, pieces by J.S. Bach, C.P. E. Bach, G. Donizetti, G. F. Haendel, F. J. Haydn and G.B. Pescetti.
Stage costumes by Margarita Martinez, an expert on the Napoleonic era and organizer of historical reenactments at an international level.
The event is also broadcast in free live streaming on the Facebook page at www.facebook.com/napoleonidi.
Dates
July 2 / September 30, 2020
Start / End Time
21:00 / 23:00
Place
S. Caterina cloister, Real Collegio. Via della Cavallerizza - Lucca