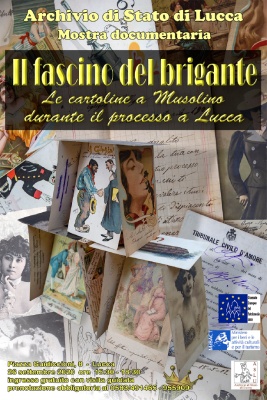 As part of the events for the European Heritage Days 2020, the State Archives of Lucca organize the documentary exhibition Il fascino del Brigante - Le cartoline a Musolino durante il processo a Lucca on Saturday 26 September from 3:30 pm / 6:30 pm.
An exhibition of postcards and unpublished letters received from the brigand Giuseppe Musolino, during his detention in the San Giorgio prison (from April to July 1902), pending the sentence. The material comes from the Procura della Repubblica fund.
The documentary exhibition is accompanied by a guided tour at the following times: 3:30 pm - 4:30 pm - 5:30 pm. Duration of the visit: 30 min.
The trial was the occasion for great celebrations in Lucca and had an international media coverage. In the courtroom, for the first time, a voice was given to the new psychiatric science in search of new methods of investigation that could explain the case of Musolino, between crime and social justice, madness and lucid premeditation.
Reservations are required by calling +39 0583 491465, Mon. / Wed (8:00 / 12:00) and +39 0583 955909, Thu. - Fri (8:00 / 12:00).
Start / End Time
15:30 / 18:30
Place
State archives of Lucca. Piazza Guidiccioni, 8 - Lucca