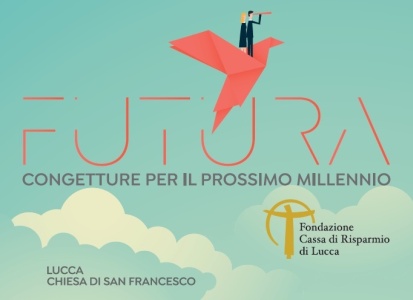 Conversations in San Francesco are back in Lucca from 14 October to 20 November, thanks to the Cassa di Risparmio di Lucca Foundation. A series of events focused on the theme Futura. Congetture per il prossimo millennio (Futura. Conjectures for the next millennium).
The 7th edition of the "conversations" includes the participation of personalities with various cultural backgrounds, who address the issue with different languages ​​and outlooks. Futura, in the Latin meaning of 'future things', is a stimulus to look to tomorrow with tools available today and is a tribute to the famous song by Lucio Dalla, who had imagined the love story between two Berliners, divided between East and West, who thought of a hypothetical child, who would have a life without barriers, and if she were a girl she would be called Futura.
In the program on Friday 6 November
9.00 pm - Auditorium of the San Francesco church | Partire, tornare. Forse restare (leave, return. Maybe stay). The sociologist Chiara Saraceno talks to the director of the newspaper La Nazione Agnese Pini. Topics of the conversation is the so-called "brain drain" and the stories full of strength and resourcefulness where young people have to face pros and cons of the globalized world,  now full of new borders and frontiers to cross. The journalist Piero Ceccatelli presents the meeting.
Compulsory online booking on the website www.fondazionecarilucca.it.
Dates
October 14 / November 20, 2020
Start / End Time
9:00 pm / 11:00 pm
Place
Auditorium of the San Francesco church. Piazza san Francesco - Lucca