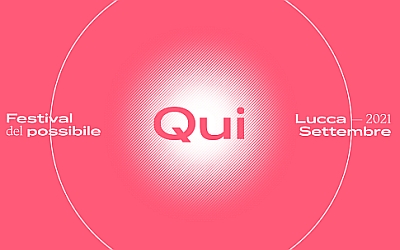 Qui. Festival del Possibile / Here. Festival of the Possible is organised from 9 to 25 September. Exhibitions, meetings, workshops. Here and now, what is possible to conceive, do, and imagine for a sustainable future, not only for us, but for all beings on earth?
The festival is an opportunity to make questions and discuss together about the meaning of a life being aware that the wealth offered by nature cannot be taken for granted, and that in our relationships with other humans, animals, plants or other entities - humanity should not be in a position of advantage and domination.
Inside the festival: Giungla, first edition. A review of contemporary art, an opportunity to meet and discuss the complex connection between humans, nature and technology. From 19 to 25 September Giungla explores the theme of the domestic jungle which focuses on the concept of living, of living in a house or appartment, whatever this means for us.
The event is included in the Settembre lucchese 2021 program.
Dates
September 9 / 25, 2021
Place
Civic library Agorà. Via delle Trombe, 6 / Botanical garden. Via del Giardino Botanico, 14 - Lucca