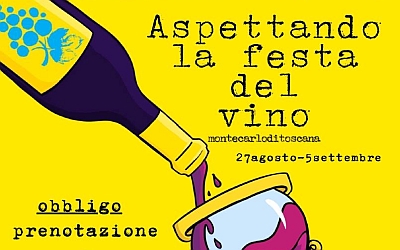 As part of the Montecarlo wine festival  Aspettando la Festa del Vino... from 27 August to 5 September, the garden of the Pellegrini-Carmignani palace hosts the 11th edition of the traditional Salotto del Vino e del Verde. 6 events with presentation of typical food together with wine of two local farms.
Wider spaces and smaller tables are organized on two shifts, at 7:30 pm and 9:30 pm, to allow the participation of more guests.
In the program on Sunday 5 September
from 7:30 pm - Farine della Garfagnana. Flours of Garfagnana. Final event to discover the Garfagnana flours brought by the Garfagnina Producers Association. The Lunardi's restaurant staff prepares an excellent menu. Paired with the wines of the Fattoria di Montechiari and the Fattoria del Teso.
Reservation required.
For Info and reservations: +39 0583 228881 (every day 9:30 am / 12:30 pm - 3:30 pm / 6:00 pm) - +39 338 1087709.
Dates
August 30 / September 5, 2021
Start / End Time
7:30 pm / 12:00 am
Place
Internal gardens of the Pellegrini-Carmignani palace, Via Roma, 7 - Montecarlo (LU)