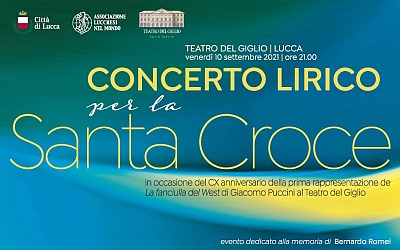 Santa Croce opera concert, on the occasion of the patron saint celebrations. Traditional music event on Friday 10 September at 9.00 pm, at the Giglio theater with a concert organized by the City of Lucca, the association Lucchesi nel Mondo and the Giglio theater on the occasion of the CX anniversary of the premiere of Giacomo Puccini's "La fanciulla del West" at the Teatro del Giglio.
In the program: La fanciulla del West by Giacomo Puccini. Performing: Marta Mari (Minnie), Alessandro Fantoni (Dick Johnson), Alberto Mastromarino (Jack Rance). Director: Massimo Morelli. Orchestra: Tuscany Opera Ensemble.
The event is dedicated to Bernardo Romei, the prematurely deceased son of Augusto Romei and Raffaella Lucchesi, founders of the Thai section of the Lucchesi nel Mondo.
Tickets can be purchased on  www.teatrodelgiglio.it / www.ticketone.it.
The event is included in the Settembre Lucchese 2021 program.
Start / End Time
9:00 om / 12:00 am
Place
Giglio theater, Piazza del Giglio, 13/15 - Lucca
Ticket
€ 15,00 (posto unico)