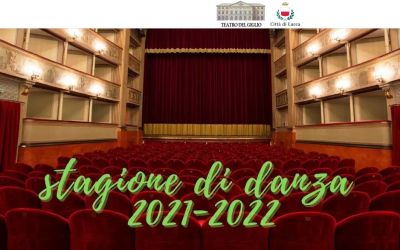 The Giglio theatre, artistic and cultural reference point in Lucca, considered a traditional theatre, offers every year a rich opera programme, which opens the theatre season, but also prose and dance with four performances, from a classical to a contemporary repertoire.
Scheduled on 8 january for the dance season
9:00pm - Inferno by Roberto Castello of the ALDES company. Disturbing and evocative, "the place of expiation of moral and material faults in which the wicked are punished and good triumphs over evil. It is the place of upheaval and chaos in whose representation everything can coexist. But it would be scarcely credible today to represent evil as the realm of a sulphurous devil equipped with tail, horns and pitchfork. Hell is here, and it looks a lot like Paradise. It pushes us to make every effort to appear better, fairer, more beautiful, stronger, more attractive, more responsible, more humble, more intelligent, and to compete for moral, social, economic and emotional gratification. Hence the idea of Inferno, a tragedy in the form of a comedy - seductive, pleasant, engaging, brilliant and funny - on the intrusiveness of the ego."
Presale: www.ticketone.it. Giglio theater ticket office: tel. +39 0583 465320
Dates
10 december 2021 / 29 march 2022
Place
Giglio theater, Piazza del Giglio, 13/15 - Lucca