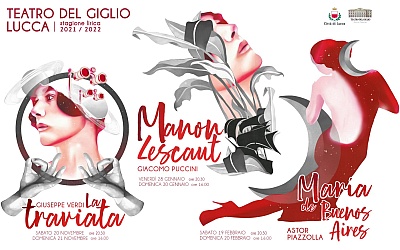 The Teatro del Giglio, artistic and cultural reference and Theatre of Tradition of Lucca, offers every year a rich program of Opera that opens the season with three shows dedicated to female protagonists, Prose and Dance, from classical to contemporary.

on the program friday 28 at 8:30 pm and Sunday 30 at 4:00 pm
Manon Lescaut, an opera in 4 acts by Giacomo Puccini.
Conductor, Marco Guidarini. Directed by Aldo Tarabella.
New staging of the Giglio theater in co-production with the Pavarotti-Freni City Theater of Modena, the Ravenna Manifestazioni Foundation and the City Theater of Ferrara.
Characters and performers: Manon Lescaut, Monica Zanettin. Lescaut, Marcello Rosiello. Renato Des Grieux, Dario Di Vietri. Geronte di Ravoir, Alberto Mastromarino. Edmondo, Saverio Pugliese.
For information: +39 0583 465320 - biglietteria@teatrodelgiglio.it
Online reservations on ticketone.it ot at the ticket office of the theater.
Dates
January 28, 30, 2022
Place
Giglio theater. Piazza del Giglio, 13/15 - Lucca