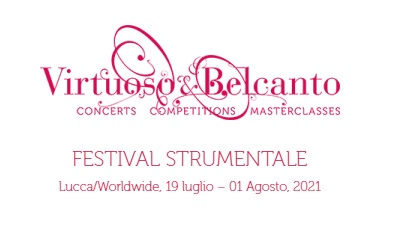 6th edition of Virtuoso & Belcanto, a unique and extraordinary festival dedicated to Classical music representing the best combination of high education, competition and Romantic music. Teachers and students meet in the summer months for intense live and online studies and live performance sessions concentrated in two weeks.
The Festival is an occasion for a meeting between different generations, between experience and passion, between deep knowledge and the desire to learn. An extraordinary symphony of emotions and talent invading the city of Lucca, celebrating its great musical cultural heritage.
from Monday 19th July to Sunday 1st August
S. Caterina Cloister. Real College | Virtuoso & Belcanto. Armonia A-Temporale. Inauguration of the exhibition and presentation of the exhibition path of the Festival in collaboration with the Florence Academy of Arts.
Sculptures and drawings by artists of the Florence Academy of Arts: 6 Sculptors (Mitch She, Thor Larsen, Maudie Brady, Eirik Arnessen, Jana Buettner, Sandeep Krishnan) and 10 painters (Melissa Franklin, Daniela Astone, Isnardo Cardozo, Per Elof Nilsson Ricklund, Niamh Butler, Dasha Belokrylova, Ola Alaaeldin, Tanvi Pathare Erica Arcudi and Angel Ramiro Sanchez) who, through their works, imprint shapes over time, making them timeless.
The sculptures are arranged inside the cloister of the Real Collegio in Lucca, while the exhibition of drawings is located on the first floor, between the classrooms for music lessons.
Dates
July 19 / August 1, 2021
Place
Real Collegio. Via della Cavallerizza - Lucca