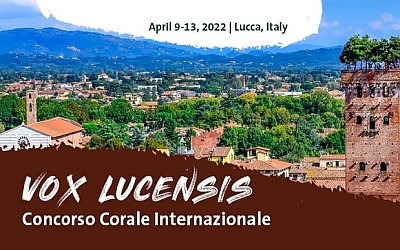 From 9 to 12 April the city of Lucca hosts the 1st Vox Lucensis International Choral Competition, an important appointment for international choir music, under the artistic direction of Maestro Giovanni Acciai together with Maestro Sara Matteucci.
A competition divided into different categories a cappella and with accompaniment, including sacred music, youth choirs and chamber choirs, with concerts and performances in some of the most beautiful churches in the historic center of Lucca.
In the program
On Saturday 9 April 6:00 pm | San Paolino church - Opening concert with performances by some participating choirs and the performance in joint choirs of the song Vox Lucensis, written for the occasion by the composer from Lucca Saverio Rapezzi.
On Monday 11 April at 9:00 pm | San Paolino church - Concert of the Holy Week.
Collegium Vocale et Instrumentale Nova Ars Cantandi, directed by Maestro Giovanni Acciai.
Music from the CD Responsoria by Leonardo Leo.
On Tuesday 12 April at 5:00 pm | ISSM Boccherini - Final competition of the 2022 Vox Lucensis Grand Prix with the winners of the categories in competition.
The complete program is available on www.interkultur.com
Place
San Paolino church, San Pietro Somaldi church, ISSM Boccherini