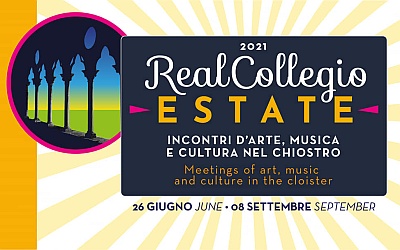 The smallest of the three cloisters of the former Real Collegio in Gothic style, preserved almost unchanged since the 13th century, is the location of the Real Collegio Estate festival from 26 June to 8 September, presenting events with art, entertainment, music, several associations and festivals.
As a part of the program, Spazio Lum presents the first edition the Independent youth theater festival.
Scheduled on Wednesday 4 August
9.00 pm - S. Caterina Cloister. Real Collegio Lucca | Non siamo dermatologi. Stand up comedy by Gruppo Erpes. A stage, a microphone, eight comedians: Lucca, after the pandemic, feels like laughing again. Irreverent, sarcastic and cutting jokes: no one is safe. Curated by the SpazioLum theater group.
For info and reservations: +39 328 0628802 / +39 345 8293338.
Complete program Real Collegio Estate (.pdf).
Dates
June 26 / September 8, 2021
Place
S. Caterina cloister, Real Collegio. Via della Cavallerizza - Lucca