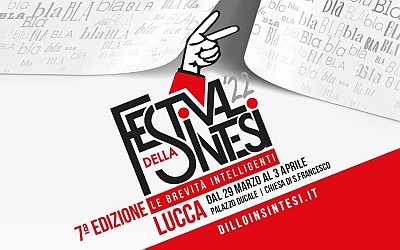 7th edition of the Festival della Sintesi, the only festival dedicated to 'intelligent brevity'.
In the sumptuous Ademollo room of Palazzo Ducale in Lucca, many events, meetings, talk shows and special guests, invited to share with the public their experience of synthesis in literature, art, science, cinema, television, satire, sports and theater, involving a curious and enthusiastic audience.
Scheduled on Friday 1 April
11:00 am - Neuromarketing. Il cervello del consumatore. La sintesi: fattore chiave nella comunicazione.  Curated by Marco Baldocchi, neuromarketing expert.
5:00 pm - Art. Meeting with Emilio Isgrò, conceptual artist and painter, in dialogue with Paolo Bolpagni, director of the Licia Foundation and Carlo Ludovico Ragghianti.
6.15 pm - Online information. Uno spazio per i curiosi del mondo e fare un figurone a cena by WILL ITA.
9.15 pm - Journalism and literature. Antonio Padellaro and Paolo Del Debbio present their latest books, in dialogue with Nanni Delbecchi.
Here is the program of the festival.
It is possible to book from March 15 by writing to info@dilloinsintesi.it
Dates
March 30 / April 3, 2022
Start / End Time
Various locations
Place
Sala Ademollo Palazzo Ducale - Lucca