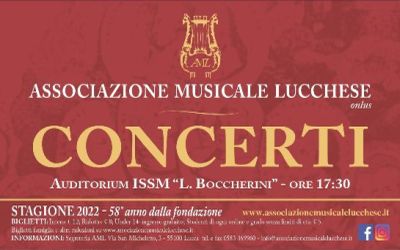 The best national and international interpreters and young talents for the chamber music festival of the Associazione Musicale Lucchese.
A program including an unusual repertoire with contemporary and innovative sounds, with a look on traditional music.
On program on Sunday February 6  
5:30 pm Auditorium Gli Anniversari. Tribute to César Franck in occasion of his 200th birthday.
Giulia Rimonda, violin; Josef Mossali, piano. 
Music by C. Franck, S. Prokofiev.
Dates
January 23 / November 27, 2022
Place
Auditorium del Suffragio. Piazza del Suffragio - Lucca
Ticket
€ 12,00. Concessions available.