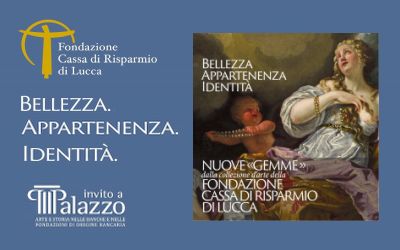 Bellezza. Appartenenza. Identità. Nuove 'Gemme' dalla collezione d'arte della Fondazione Cassa di Risparmio di Lucca (Beauty. Affinity. Identity. New 'Gems' from the art collection of the Cassa di Risparmio di Lucca Foundation) is the title of the exhibition, from 2nd October to 5th December in the San Micheletto Complex.
An initiative carried out as part of the 2021 edition of Invito a Palazzo which includes the opening of the historic headquarters of banks and related foundations in Italian cities.
A selection of recently acquired paintings tell important passages of Lucca's painting tradition. The works are divided by thematic area: religion, myth, portraiture, history and a special section.
On display three portraits, made by Girolamo Scaglia, Pompeo Batoni and Luigi de Servi, works of religious subjects such as the 'lively' Maria Maddalena by Antonio Franchi and Judith by Girolamo Scaglia, up to the very recent acquisition of two Cupids by Paolini.
Furthermore, Stefano Tofanelli and another work by De Servi, the Santi Levìti by Vincenzo Civitali, the last two acquisitions in order of time, which enrich the extensive collection of the Foundation.
Dates
October 2 / December 5, 2021
Start / End Time
10:00 am / 1:00 pm - 2:00 pm / 7:00 pm (sat., sun.)
Place
Sala dell'Affresco del Complesso San Micheletto. Via Elisa, 8 - Lucca