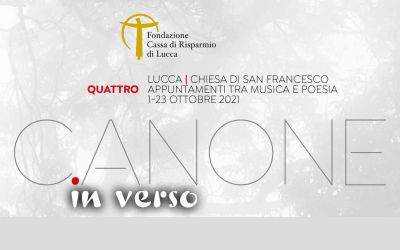 Canone in verso from 1 to 23 October. 4 events of music and poetry for the festival held in the Church of San Francesco.
The program on Friday 1 October
9.00 pm - Church of S. Francesco | Come musica, la poesia. Music and words for the bicentenary of John Keats's death. Conference-performance directed by Alessandro Fabrizi. A journey through the rhymes of a musical poem, through the analysis of Nadia Fusini, Keats scholar and translator. Reading by the poet Franco Marcoaldi, accompanied by Ivano Battiston, accordion.
Online booking on www.fondazionecarilucca.it from 12:00 pm on Tuesday 28 September to 12:00 pm on Friday 1 October.
Dates
October 1 / 23, 2021
Place
Church of S. Francesco. P.zza S. Francesco - Lucca