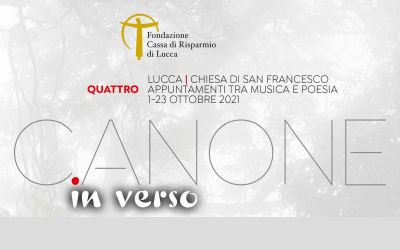 Canone in verso from 1 to 23 October. 4 events of music and poetry for the festival held in the Church of San Francesco.
The program on Friday 8 October
9.00 pm - Church of S. Francesco | Ti chiamo poesia. Poetic reading in music from Saffo to Alda Merini, entirely dedicated to the celebration of female poetry, interpreted by Laura Martinelli and Michela Innocenti, accompanied by the harpist Celeste Canali. Organized by the association "Il Circo e La luna".
Online booking on www.fondazionecarilucca.it from 12:00 pm on Tuesday 5 October to 12:00 pm on Friday 8 October.
Dates
October 1 / 23, 2021
Place
Church of S. Francesco. P.zza S. Francesco - Lucca