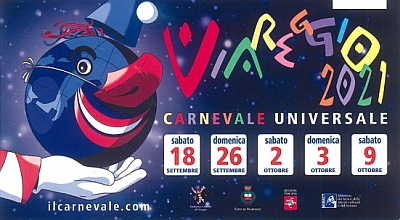 Viareggio, the capital of Italian Carnival, welcomes you to the great mask parades 2021 on the sea avenues. For the first time at the end of summer and the beginning of autumn, the city will be transformed into a fun factory with papier-mâché giants, parties, fireworks, balls, theater festivals, food festivals.
Five mask parades scheduled from 18 September to 9 October. An international event featuring the largest and most famous papier-mâché floats in the world. A "Universal Carnival", dedicated to all Carnival traditions, stories and cultures from all over the world.
In the program on Sunday 3 October
4:00 pm - 4th Mask Parade. The giant papier-mâché floats parade along the sea avenues.
The Complete program of the Viareggio Carnival is available on the official website.
Dates
September 18 / October 9, 2021
Start / End Time
4:00 pm / 8:00 pm
Place
Sea avenues - Viareggio (LU)
Ticket
€ 30,00 / € 40,00. Concessions available