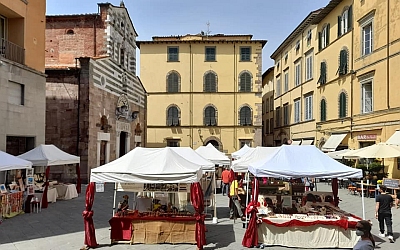 The Arts and Crafts market Arti e Mestieri is an artisan market in the historic center of Lucca, with a big number of exhibitors presenting every month in Piazza San Giusto and Piazza XX Settembre their traditional and original products.
In April, in addition to the usual weekend market, the event also continues on the bank holiday on Monday 25 April.
At the market Arti e Mestieri you can find potters, painters, sculptors, masters of leather, glass and papier-mâché, weavers, jewelers, cabinetmakers, seamstresses and embroiderers, masters of irons and crochet. The artisan-artists offer their exclusive products in the colorful market: bijoux in silver, ceramic and crochet, natural products for body care, handmade fountain pens, bags, belts and leather bracelets, painted stones, perfumed lavender, splendid paintings and sculptures.
Dates
April 23 / 24 /25, 2022
Start / End Time
10:00 am / 7:00 pm
Place
Piazza San Giusto and piazza XX Settembre - Lucca