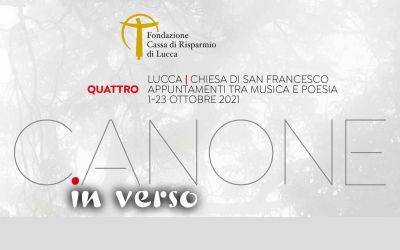 Canone in verso from 1 to 23 October. 4 events of music and poetry for the festival held in the Church of San Francesco.
The program on Saturday 23 October
9.00 pm - Church of S. Francesco | Bob Dylan: layers of skin and slippery grey. Ottant'anni di moltitudini. Narration and music to celebrate the 80th birthday of the most influential singer-songwriter in history. David Riondino, actor, director, songwriter and writer, with his narration and Pietro Brunello, voice and guitar, talks about the Dylan trend that in sixty years has overwhelmed distant generations.
Online booking on www.fondazionecarilucca.it from 12:00 pm on Wednesday 20 October to 12:00 pm on Saturday 23 October.
Dates
October 1 / 23, 2021
Place
Church of S. Francesco. P.zza S. Francesco - Lucca