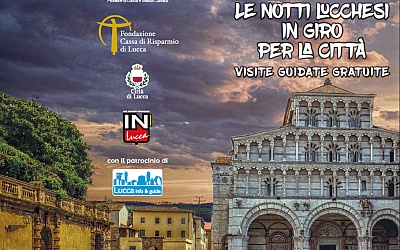 9 events every thursday night in July and August for a total of 18 guided tours, 2 for each event that will allow you to discover Lucca, its beauties and its thousand secrets often unknown also to locals.
This is the concept of "Le notti lucchesi in giro per la città", a promotional tourist event organized by the local retailers association, in cooperation with the City of Lucca, the guides of Lucca Info & Guide and the shopping center Città di Lucca.
In the program on Thursday 22 July
6:00 pm - Meraviglie al Giardino: itinerario per tutti all'Orto Botanico. A guided tour at the Botanical Garden in Italian along accessible paths, an immersion into the beauty of nature inside the city wall. Stories, legends, scents and emotions...for all! The tour is suitable for blind and partially sighted and/or mobility impaired persons. 
9:00 pm - Lucca a luci rosse. A tour to discover the former red-light district of the city, its brothels, sinful alleys and saunas in the past.
In July the guided tours are organized together with the late night opening of the shops for the  "Giovedì di luglio" program. Complete program of guided tours (.pdf).
The meeting points will be conveyed at the moment of reservation.
For info and reservations (mandatory): from 9:30 am to 12:30 pm by calling +39 349 1332450 or 340 7806967 or by sending an e-mail to mary.curto1958@gmail.com
Dates
July 1 / August 26, 2021
Start / End Time
6:00 pm - 9:00 pm
Place
Old town centre - Lucca