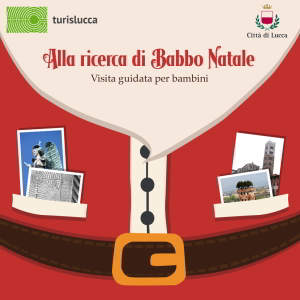 Children are the protagonists of this adventure full of fun and movement through the historic center of Lucca, discovering secret and unexpected corners, solving riddles about history along a path under the supervision of the tour guide. At each stage a brief description of the main characteristics of the visited places is presented.
Some "angels" will liven up the tour with Christmas songs inside a church.
The visit ends with the discovery of a treasure, Santa Claus, that children will find following attentively the directions and solving small puzzles. Santa Claus will give delicious chocolate to each participant and answer the questions of curious children.
Children can only participate if accompanied by an adult.
Reservations required by writing to turislucca@turislucca.com.
Dates
December 26 / 27, 2020
Start / End Time
3:30 pm / 6:30 pm
Place
Historical center and city wall - Lucca