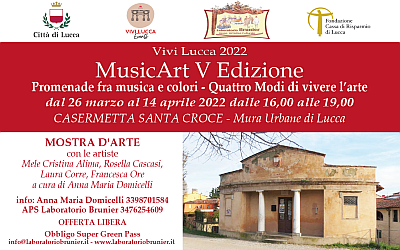 V edition of MusicArt, a festival of music and cultural events of the Brunier Laboratory association, with art exhibitions accompanied by concerts of different musical genres and styles in the Casermetta Santa Croce on the city Walls of Lucca.
From March 26 to April 14, the exhibition Quattro Modi di vivere l'Arte, curated by Anna Maria Domicelli, can be visited.
Scheduled on March 26
5.30 pm - Quattro Modi di vivere l'Arte, inauguration of the exhibition with the artists Cristina Alima Mele, Rosella Cascasi, Laura Corre and Francesca Ore.
6:00 pm - Proyecto Piano Joven, Spanish music concert by the composition class of Maestro Alberto Carretero of the Manuel Castillo Superior Conservatory of Music in Seville.
The pieces are performed by talented young pianists trained by the masters Ignacio Torner and Taller Sonoro of the Professional Conservatory of Music Cristóbal de Morales in Seville, on a European tour. Special guest of the afternoon will be the young soprano Marianna Giulio, accompanied by maestro Stefano Teani, with the aria Quando men vo' from the Boheme by Giacomo Puccini.
For information: tel. +39 347 6254609 or +39 339 8701584.
Dates
March 26 / April 14, 2022
Start / End Time
4:00 pm / 7:00 pm
Place
Casermetta Santa Croce. Mura di Lucca.