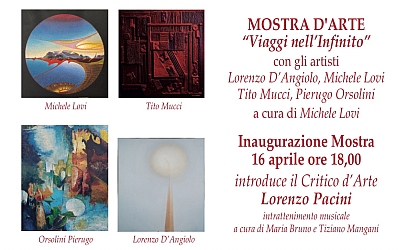 V edizione di MusicArt - Promenade fra Musica e Colori, a music and culture festival organized by the Brunier Laboratory association, with art exhibitions accompanied by concerts of different musical genres and styles, in the Casermetta Santa Croce on the City Walls of Lucca.
From April 16 to May 8 the exhibition Viaggi nell'Infinito can be visited, curated by Michele Lovi.
On display the works of four local artists, Lorenzo D'Angiolo, Michele Lovi, Tito Mucci and Pierugo Orsolini, all with a long-term experience and total freedom of expression. With their personal research, which ranges from figurative, even material, to organic abstraction and collage, to the surreal, to photographic research applied to painting and the study of light, these artists take us into the infinite worlds of the imagination.
Opening on April 16 at 6:00 pm with the art critic Lorenzo Pacini introducing the artists. Music by Maria Bruno and Tiziano Mangani.
For information: tel. +39 349 3251793.
Dates
April 16 / May 8, 2022
Start / End Time
4:00 pm / 7:00 pm
Place
Casermetta Santa Croce. Mura di Lucca.