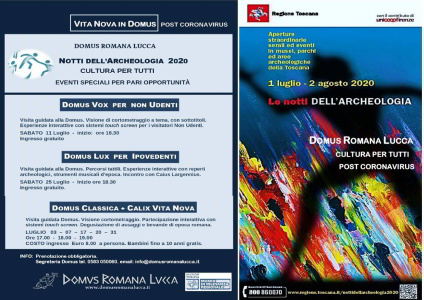 From 1 July to 2 August Le notti dell'Archeologia - The Nights of Archeology are a much appreciated event with extraordinary evening and late night openings in museums, archaeological areas and parks in Tuscany.
This year, due to the health emergency from Covid-19, and twenty years after the first edition, the event has a very special value. The museums, parks and archaeological areas, after a forced but necessary closure, welcome visitors again. The event offers a promotion of our most ancient past, but it is also a sign of recovery of cultural life.
The rich program includes events throughout the region.
In the program on Monday July 20
5:00 pm / 6:00 pm / 7:00 pm - Domus Romana - Lucca | Domus Classica + Calix Vita Nova. Guided tour of the Domus. Short film. Interactive participation with touch screen systems. Tasting of typical Roman food and drinks.
Reservations are required at the email address info@domusromanalucca.it or by calling +39 0583 050060.
Start / End Time
17:00 / 20:00
Place
Domus Romana Lucca. Via C. Battisti, 15 - Lucca
Ticket
€ 8,00 / Free admission for children until 10