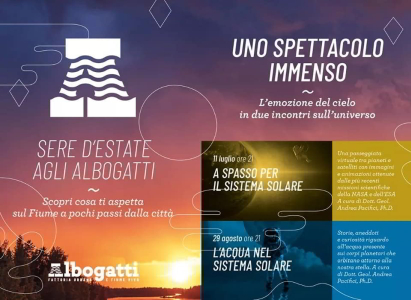 Double appointment with star oberservation in the river park at the Albogatti farmhouse at the Sere d'estate agli Albogatti festival. A great experience living the emotion of the sky constellations in two meetings about the universe.
In the program on Saturday 11 July
9.00 pm - Fattoria degli Albogatti. Via del Callarone - Lucca | A spasso per il Sistema Solare (Exploring the Solar System). A virtual walk between planets and satellites with images and animations obtained from the most recent scientific NASA and ESA missions, by Andrea Pacifici.
Reservations required. For information and reservations: lucca@fattoriaurbana.it or Paola (+39 366 1758719) or Irene (+39 328 0371174). Possibility of aperitif and light dinner.
Dates
July 11/ September 5, 2020
Start / End Time
21:00 / 23:00
Place
Fattoria degli Albogatti. Via del Callarone, 350 - Lucca