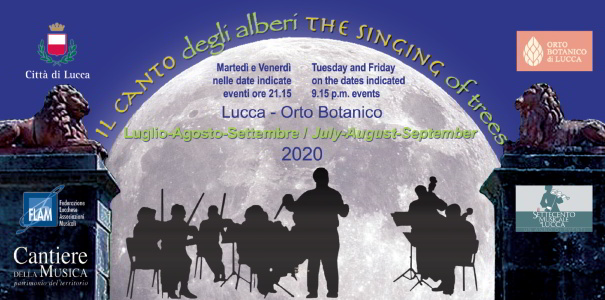 On Tuesdays and Fridays in the months of July, August and September, a lot of music in the Botanical Garden's modern greenhouses which host The singing of trees organised by the FLAM association. A concert festival of various kinds, preceded by a presentation to illustrate the proposed listening path.
In the program on Tuesday 4 August
9:15 pm - Modern greenhouses of the Botanical Garden of Lucca | Tommaso Nicoli plays the harpsichord. TMusic by Marchand, Couperin, Bach, Fischer.
Reservations are required on Vivaticket or by writing to the Botanical Garden ticket office at biglietteria@ortobotanicodilucca.it or by calling +39 0583 950596.
Dates
July 17 / September 15, 2020
Start / End Time
21:15 / 23:30
Place
Botanical garden of Lucca. Via del Giardino Botanico, 14 - Lucca
Ticket
€ 3,00 (entrance fee)