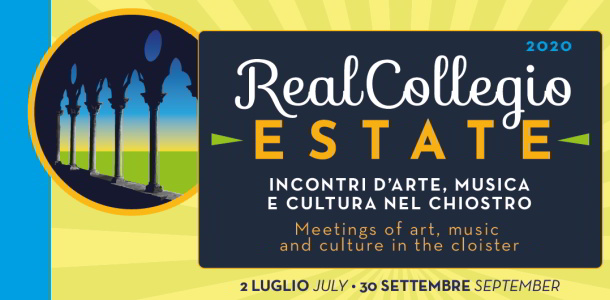 All-round conversations, concerts and art. The journalist Paolo Mandoli presents talk shows on Tuesday evening in the Santa Caterina cloister.
The smallest of the three cloisters of the former Royal College in Gothic style, whose origins can be traced back to the thirteenth century, is preserved almost unchanged and hosts the events of the festival from 2 July and until 26 September, with the cooperation of La Cattiva Compagnia, Virtuoso & Belcanto festival, the Animando association, Lucca Jazz Club, Napoleone ed Elisa: da Parigi alla Toscana, Lucca Senza Barriere.
In the program on Sunday 2 August 
9:00 pm | S. Caterina Cloister. Real Collegio Lucca | Presentation of the art exhibition Inquieto gesto e labile realtà (Restless gesture and unstable reality). Set up in the cloister, open until September 2nd. Curated by Claudio Della Bartola. Speakers Marco Donatini, Marco Rossi, Romano Bavastro and Angelo Vadalà with La maschera nella storia dell'arte.
Dates
July 2 / September 30, 2020
Start / End Time
21:00 / 23:00
Place
S. Caterina cloister, Real Collegio. Via della Cavallerizza - Lucca