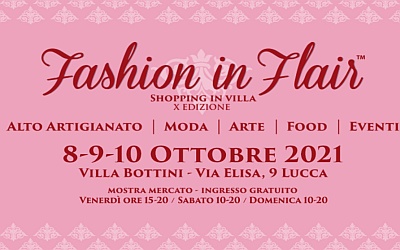 Fashion in Flair is an important event focused on the sense of beauty. Fashion in Flair, is a market exhibition with high quality crafts of selected exhibitors coming from all over Italy. Three days of fashion, art, food, events in Villa Bottini. The very best of well-made Italian style will be on display in a fascinating historic location surrounded by the unique beauty of Lucca.

Program:
from Friday 8 to Sunday 10 October
3:00 pm / 8:00 pm (October 8) - 10:00 am / 8:00 pm (October 9,10) Villa Bottini | Fashion in Flair - Shopping in Villa, X edition. Fashion and bijoux creations, refined home decorations, a space dedicated to beauty care and top quality food and wine, in a weekend to rediscover the taste of time flowing slowly, with craftsmanship and design and, the pleasure of a location full of history.
Dates
October 8 / 10, 2021
Start / End Time
10:00 am / 8:00 pm
Place
Villa Bottini. Via Elisa, 9 - Lucca