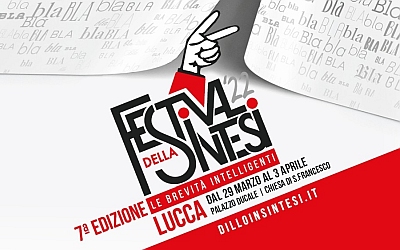 7th edition of the Festival della Sintesi, the only festival dedicated to 'intelligent brevity'.
In the sumptuous Ademollo room of Palazzo Ducale in Lucca, many events, meetings, talk shows and special guests, invited to share with the public their experience of synthesis in literature, art, science, cinema, television, satire, sports and theater.
Scheduled on Saturday 2 April
11:00 am - Literature. Dio in poche parole. La domanda religiosa nel romanzo contemporaneo. Conversation between the Archbishop of Lucca Paolo Giulietti and Lorenzo Fazzini, director of the Vatican publishing library.
5:00 pm - TELETHON event. The story of the Research in a nutshell 2-minute video. With Cristiana Capotondi, Telethon testimonial; Alessandro Betti, director of Telethon fundraising; Erika Brenna.
9.15 pm - TELEDICO IN SINTESI. Award ceremony for Antonio Ricci, author of "Striscia la Notizia".
Here is the program of the festival.
It is possible to book from March 15 by writing to info@dilloinsintesi.it
Dates
March 30 / April 3, 2022
Start / End Time
Various locations
Place
Sala Ademollo Palazzo Ducale - Lucca