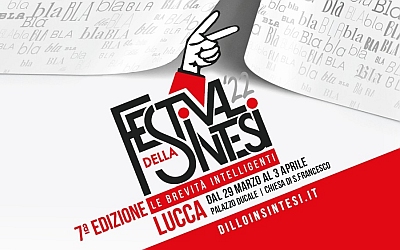 7th edition of the Festival della Sintesi, the only festival dedicated to 'intelligent brevity'.
In the sumptuous Ademollo room of Palazzo Ducale in Lucca, many events, meetings, talk shows and special guests, invited to share with the public their experience of synthesis in literature, art, science, cinema, television, satire, sports and theater.
Scheduled on Sunday 3 April
6:15 pm - Journalist award DILLO IN SINTESI Marcello Petrozziello. Awarding ceremony with prize to Francesco Tullio Altan, cartoonist and satirist.
Here is the program of the festival.
It is possible to book from March 15 by writing to info@dilloinsintesi.it
Dates
March 30 / April 3, 2022
Place
Sala Ademollo Palazzo Ducale - Lucca