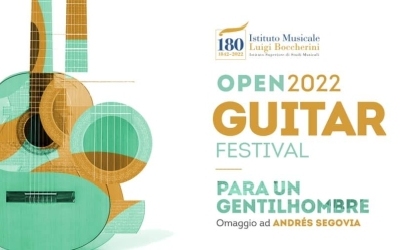 Guitar Festival is a festival dedicated to guitar music as a part of the OPEN 2022 program, a rich concert season with special guests, performances, events and art notes in concert, organized by the ISSM Boccherini with the participation of internationally renowned artists, prestigious collaborations including young music talents.
The red thread leading through the events of the Guitar Festival 2022 is the figure of Andrés Segovia, a great guitar player, to whom the festival is dedicated this year.
Scheduled on Monday May 9
5:00 pm - Auditorium del Suffragio | Mario Castelnuovo-Tedesco and Andres Segovia, lecture in Italian language by Diana Castelnuovo-Tedesco and Marco Surace.
Reservation is required on Eventbrite
Dates
February / June 2022
Place
Auditorium del Suffragio. Piazza del Suffragio, 6 - Lucca